Nearing its end!
Hi everybody!
I'm so excited, I finished the knitting and crocheting on monday night! Unfortunately, I haven't bought the velvet ribbon yet, nor the elastic band.
I wish I had been able to go to the notions store today but it's an official holiday here in France. So all the shops are closed and have to wait...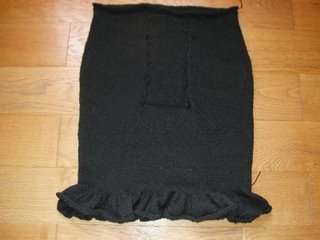 All I can say is the size seems perfect, provided the yarn doesn't sag when washed. As soon as I have placed the ribbon and sewn in the elastic band, I 'll appeal to my dear husband to take a snap of me!